The best books to read about the history of women's rights
By Ellen Carol DuBois
Content originally published here.
Who am I?
I have been writing about the history of women's rights and women's suffrage for over fifty years. Suffrage: Women's Long Battle for the Vote offers a comprehensive history of the full three-quarters of a century of women's persistent suffrage activism. I began my work inspired by the emergence of the women's liberation movement in the 1970s and this most recent history appeared in conjunction with the 2020 Centennial of the Ratification of the Nineteenth Amendment. My understanding of the campaign for full citizenship for women repeatedly intersects with the struggles for racial equality, from abolition to Jim Crow. Today, when American political democracy is under assault, the long history of woman suffrage activism is more relevant than ever.
---
I wrote…
Suffrage: Women's Long Battle for the Vote
By Ellen Carol DuBois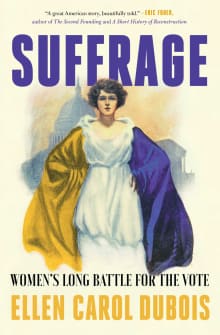 What is my book about?
Suffrage explores the full scope of the movement to win the vote for women through portraits of its bold leaders and devoted activists. DuBois explains how suffragists built a determined coalition of moderate lobbyists and radical demonstrators in forging a strategy of winning voting rights in crucial states to set the stage for securing suffrage for all American women in the Constitution.
This is a "comprehensive history that deftly tackles intricate political complexities and conflicts and still somehow read with nail-biting suspense," (The Guardian) and is sure to become the authoritative account of one of the great episodes in the history of American democracy.
When you buy a book we may earn a small commission.
The Books I Picked & Why
Closely Related Book Lists
Random Book Lists